1859 The clock in the clock tower at London's Houses of Parliament, also known as Big Ben, first began ticking. Big Ben is the largest four-faced chiming clock and the third-tallest free-standing clock tower in the world.
1852 German bacteriologist Julius Petri was born in Barmen, Germany. He is remembered for his name given to the Petri dish, a shallow, cylindrical dish made of plastic or glass with a cover, used for tissue cultures and to hold solid media for culturing and sub-culturing bacteria.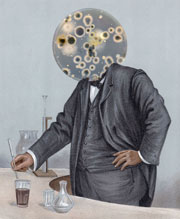 1790 U.S. President George Washington signed The Copyright Act of 1790 into law. It was the first federal copyright act to be instituted in the United States. Its purpose was the "encouragement of learning," and it achieved this by securing authors the "sole right and liberty of printing, reprinting, publishing and vending" the copies of their "maps, charts, and books" for a term of 14 years, with the right to renew for one additional 14 year term should the copyright holder still be alive.
1279 B.C. Egyptian Pharoah Ramesses II (also known as Ramesses The Great) ascended to the throne. Records show that his ascension took place on the date of III Shemu day 27, which corresponds to May 31, 1279 B.C. He is often regarded as Egypt's greatest, most celebrated, and most powerful pharaoh, ruling for a total of 66 years. Studies of his mummy show that he had wavy reddish-blonde hair and images made of him during his life show blue eyes and fair skin.